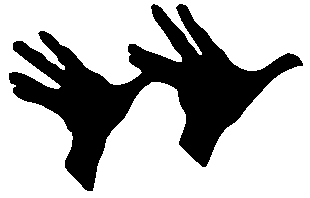 Our summer intern, Celina Prince, has compiled this list of our past clients and accounts. When I scan down the list I see our whole history flashing before my eyes! So many wonderful stories, a myriad of team configurations, some from long-ago freelance days, like water under the bridge, have brought us to where we are today. And we are still finding more in our archives. But I didn't want to wait to share it and to extend our sincere gratitude to all those listed here for putting their trust us so that we could apply our skills and talents on their behalf.
If we've worked with you and you don't see your name here, please let us know. We'd love to just say hello and thank you personally.
I think this should answer Jimi Hendrix's question.
Kollar Design Clients and Accounts
A Safer Driver, Inc.
Abitare
ACC International Institute, (Au Couer de Communication)
Adobe Systems, Inc.
AIB Govett
Alan Revere Academy
Alison Bloomfield
And/Or Press
Ann Bennet & Associates
Antenna
Apple Computer
Armstrong & Dangles
Architects/ Designers/Planners for Social Responsibility (ADPSR)
Attain Learning Source
BALLE/Local Exchange
Berggruen Gallery
Big Apple Green
Bigelo
Blue Planet
Brannon Street Editorial
Bike & Build
Bo Boudart Productions
Business for Social Responsibility
CAPS
California Association for Micro Enterprise Opportunity [CAMEO]
California Magazine
California Marijuana Initiative [CMI '80]
California Prune Board
CalStar Cement
CalStar Products
CarbonCure
Casado, Inc.
Charles Schwab
Charlie's Auto Repair
Chevron
Cisco Systems
Citibank
Clawson Beaver Building Company
Clennon Associates/Envectra
Clinimetrics
CoAction Technologies
Co-Evolution Books
Coleman-Souter
Community Psychiatric Centers
Company of Friends
Compaq
COYOTE [Call Off Your Old Tired Ethics]
Curtis Martin Photography
Delta Computer Solutions
Destinations Video
Doug Ivey
DreamQuest Studios
Eccosport
Ecostream
ESPRIT
Exactly That Productions
Far West Labs
Finger & Smith
Flowers Publishing
Freedom Furniture
Galoob Toys
Gap
Garden Art
GreenBiz.com
GreenClips
Green Team
Hearts of Space
Hemporium
Hash, Marijuana & Hemp Museum, Amsterdam
Hill & Co. Real Estate
Integrity Solutions
Interra
Iris Garden
Island Records
Jeanmarie Todd
JCCSF [Jewish Community Center San Francisco\
Joanne Strauss
John Casado, Artist
Johnny Grey, Inc.
JPHS/Pentagram
Jordan Winery
Jos Draperies
K-Farms
Kelly McRae and Rob Tomaszewski
Keith Evans
Kitchen Matrix
Kirshenbaum Communication
Koc Design
KTB Group
La Bousquette Vineyards
Learning As Leadership
Learning Design Network
Lee Mun Wah
Lewis Galoob Toys, Inc.
Looters
Lorna Kollmeyer Ornamental Sculpture
Lorna K
Ned Boyton
MacPherson's Art & Design
Macromedia
Macy's
Margen and Associates
Matrix Communications
McRae-Hinckley
Meltzer, Aron and Lemen, Inc.
Michael Schols
Model Integration
Mohave Accelerated Learning Center
MusicWorks
Nan Crawford & Co.
National Cocoa and Coffee Board of Cameroon
New Leaf Paper
Nice Advertising
NORML
Northern California Community Loan Fund
Outside Magazine
Pacific Blue
PC World Magazine
Peter & Margen Associates
Philippe Ferrari, Artist
Presidio Counsel
Proposition W
Push Button Color
Quick Trading Company
Rachelle Emilie Designs
Regenerative Network
Renaissance Entrepreneurship Center
Richard Levitt Creative
Ritz
Rogers & Associates
Rudolph Steiner Foundation
Saatchi & Saatchi
Sally Rosenman
San Francisco State College of Buisness
San Francisco Talking Map
Sam & Libby
sfgate.com
SAGA Fuel Systems
Savitar, Inc.
Scenic California
Sharper Print
Spoja & Associates
StirFry Productions
StirFry Seminars & Consulting
Stopwaste.Org
Sunovia Energy Technologies
Susan Jane
Sybase/TMP
Tad Gilmore
Telemac
Telesmart Communications
Teri Keyser
The Net
TMP Worldwide
Tom LaSpina a.k.a. Tom Flowers
Trilogy Materials, LTD.
Union Bank Of California
U.S. Green Building Council, Northern California Chapter [USGBC-NCC]
Vicom
Victoria Woodhall Foundation
Vikers Design
Virtually Green, LLC
Vivid
West Coast Green
World Focus Films
World Foods
X Records
Young Audiences of the Bay Area