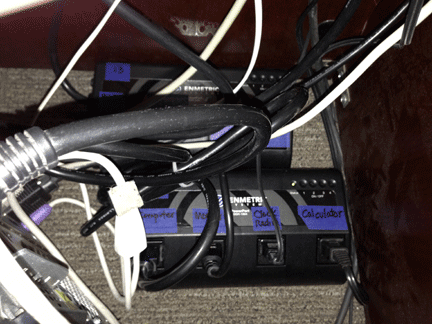 What are those things you might ask. If you didn't recognize them, they are plug load tracking devices, Power Ports made by Enmetrics. We are installing them as part of a LEED v.4 EBOM pilot project at Stopwaste.org's LEED Platinum building in downtown Oakland, CA. We are collecting data from every devise and tracking it separately. We can then access it on a dashboard. Well, that's pretty progressive to start with but this is just the beginning of this story.
Stay tuned to learn how we will marry the data collected from individual devices with a super-silly 'serious game' called Energy Chickens, the brain-child of impassioned Penn State professor, Brian Orland, and his merry band. You may have heard Brian's presentation at Greenbuild. This is the new and immensely promising frontier of energy savings in commercial buildings and we are excited to be involved in this cutting-edge project headed up by James Kalin of Virtually Green.
Fininally, I got all the dust bunnies out of my hair that I picked up when crawling after hours under Stopwate.Org's employees' desks. One thing I'm sure of: that was not the glamourous part of this job. But, when your team is small, you jump in and do what needs doing, right? And since I just happen to be the petite one, and the one who practices yoga, I was the obvious pick. [Could this be my new career?]
If this seems like a far cry form designing brochures, websites and show materials, you are right. But rolling up our sleeves and getting up close and personal with new technologies is precisely the kind of thing that builds the integrated knowledge we bring to our offering. Experiences such as this give us our truly unique perspective [no pun intended] and enable us to connect the dots between business strategy, green building, sustainability and smart marketing communications.